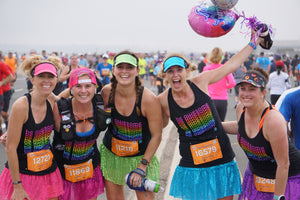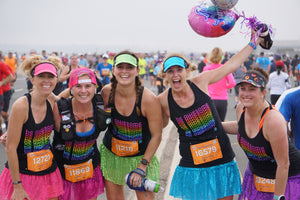 Inspiring athletes to put the fun back in their run, while spreading the power of sparkle.
Together we sparkle
Sparkle Athletic was born out of the blood, sweat, and sparkle of three friends. Long-time runners and triathletes Carrie, Elise, and Kelly stormed the 2010 Surf City USA Marathon in Huntington Beach, California clad in sparkle skirts. Little did they know it was the beginning of something great and something very sparkly.
A talented seamstress with a degree in fashion design, Carrie had been making sequined skirts for her daughters to play dress-up. When one of her daughters insisted on wearing the skirt on a mountain biking trip, Carrie got an idea. She could see her daughter from far away as her skirt sparkled in the sun.
why not?
Why not wear the sparkly skirts for their marathon, Carrie thought. Kelly and Elise, who love a little glitter themselves, agreed. After all, sparkle would be easier for their friends and family to spot in a sea of runners than the usual parade of black and white. They sure were right.
The trio got hundreds of compliments and questions about the skirts. The girls realized they had something special on their hands. So with Carrie's sewing needle, Kelly's marketing know-how, and Elise's business & accounting skills, Sparkle Athletic came shining into the world one glittery day.
How to Join #teamsparkle?
With Sparkle Athletic, you're not just buying a skirt. You're joining our team: #teamsparkle, a group of women who know what it means to truly shine. At Team Sparkle, we want you to shine too. So we're spreading the power of sparkle one skirt at a time.
You will get compliments. You will get stares. Your friends and family will spot you a mile away. But most of all, you'll be motivated and inspired by knowing that Team Sparkle is with you every step of the way. We want to cheer you on as you work to achieve your goals.
Join our virtual community of women who know what it means to truly shine. Use the hashtag #teamsparkle to celebrate your sparkle.
Carrie
Carrie is a mother of four, with not enough time to sew, run, thrift, DIY, mountain bike & crochet, but she sneaks it in anyway. She shares her love of running by coaching track and cross-country at her local high school. Follow & chat with her on Instagram @thisiscarrie 
Elise
Elise is a sweets-loving, cycling & running-addicted, sparkle-wearing Ironman & Boston Qualifier who loves her two kids, hubby, and trail running pup. She's always on the search for the best cupcake, donut, or cookie wherever she travels! Follow & chat with her on Instagram @elisewallace
Kelly
Kelly is a Cherry Coke drinking, snowboarding, world-traveling, marathon running triathlete, donut eating, Disneyland frequenting, OC living, mama of 3, with ADD crafting tendencies & an MBA degree. Follow & chat with her on Instagram @according2kelly